At the beginning of the month "Auntie" Mindy came to visit. She left her two girls in the able hands of her husband for 5 days and came and played with us. She got here late late on a Tuesday night. Wednesday morning (she'll kill me for posting this but she's not a blog reader so she may never know) she had a bad reaction to flying, food and weak stomach from the flu she'd just gotten over...but luckily she recovered by noon-time and we got to go look around downtown Salem.




Thursday we did the required, and enjoyable, tour of the Minute Man National Park with stops in Lexington and Concord. We made sure she had a sub at one of the local sub shops. I got to show her off to my book club (and vice versa).

Friday we trekked into Boston and went to the Museum of Fine Arts. That is a great museum. It is huge and with a new addition in 2010 will be even larger. Tessa slept through most of it but woke up in the Contemporary Art section (Mommy's favorite) and was thrilled with the art! If you think about it, contemporary art does look a lot like a children's book.

My driving made Mindy car sick. I think if you asked her that she'd agree. (Now that I think about it my Mom got car sick with me as a driver too...odd.) So Saturday she wasn't too thrilled about going back into Boston so we stayed local, visited the beach at Marblehead and drove around there, then we came back home made bean dip and invited another college roommate and her family up to watch a movie.




It is great how hanging out with a long time friend can be so easy and comfortable!!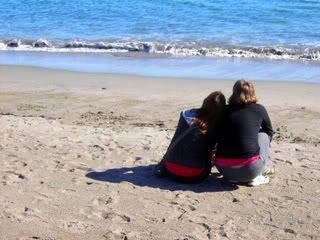 Mindy left Sunday morning then Wednesday afternoon another friend, Jen, flew in. This was Jen's 3rd trip to New England so we had to dig deeper into the tour guide books to find new things to do. As a result I have a long list of fun things I've just seen for the first time. So, those of you who may have already come to visit...never fear, if you come again I'll be able to keep you entertained.

This was our itinerary while Jen was here.

Wednesday night we went to Salem Beer Works for dinner. Yum yum. Thursday Jen, Tessa and I headed to the Minute Man National Park for a recap of the events and some stops at the smaller sites there. Then we drove up beautiful New England roads filled with fall leaves to Lowell to visit the fabric mills there. Now, if you have lived in New England you may be thinking. Lowell?!? But you'd be surprised, the mill tours are very interesting and informative and I recommend them. I'm putting them on the list for when Aaron's parents visit again because there is a Quilt museum and a streetcar museum near the mill sites and I'd love to spend more time there. Not live there, just spend time there.

We had to hurry back from Lowell because we were going to the show Wicked at the Opera House that night. There were some nail biting moments in traffic when we thought we'd miss it but we got there in plenty of time. The show was great. Jen had seen it before, and she and I had read the book. Aaron hadn't seen it and whispered to me as it began "This isn't a musical is it!?" but he liked it a lot also. The musical itself is done well - it gets the same point across as the book. But the book is also very good and much more in depth so even if you've seen the show I recommend reading the book.

Friday Aaron took the day off. We had to get to Boston early for a follow up visit with Tessa's neurologist. She was a little show off and did all her tricks really well for the doctor. She is meeting all of her adjusted age milestones and the doctor is still thrilled with her. We had a little scare earlier in the month that required another MRI just to be cautious but there was no reason for alarm.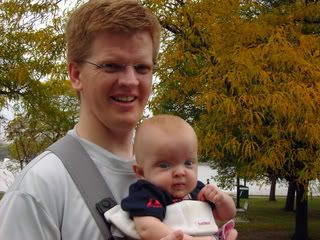 After Tessa's appointment we walked through Beacon Hill to the Charles River and walked along the Esplanade, then trekked up to Fanueil Hall to Wagamama. When Jen, Aaron and I went to London last year we ate a Wagamama. Then the opened a store here in Boston and Aaron and I ate there the first time I took Tessa into the city just for fun. We bragged to Jen...so she had to come out here to eat there also. After lunch we got rained on heading back to the car, then we went south to the JFK Presidential Library and Museum. Once again Tessa slept through a lot of that but woke up during the Cuban Missile Crisis and enjoyed the rest of the museum. I was amazed at this point that she was still being cheerful after more than a week of entertaining people.




Jen made us spaghetti for dinner that night. The plan was dinner, movie and assemble the Revolutionary War puzzle I bought when my family was here for the 4th of July. (Jen and I were both surprised that we had never put a puzzle together before since we were both so excited to find someone to do one with). The movie we were going to watch was Casino Royale because Aaron and I had never seen it and there was a scene in it Jen wanted us to see. However, we rented that movie from Blockbuster and then went to return some DVDs to the library...yes, you can guess what happened. We returned the DVD we had just rented. So we watched Liminy Snicket instead.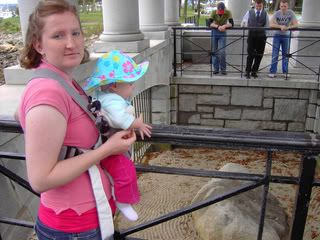 Saturday we picked up the DVD from the library then headed to the Cape. We got a bit of a late start but still did a lot of things we wanted to. First we stopped at Plymoth Rock then continued to the Cape. That means beaches and lighthouses. We saw Marconi's radio tower location, the Cape Cod national seashore. Yes, Aaron did swim in 65 degree weather in October....I'll try to get the video of him getting beat up by waves. We saw 2 working lighthouses and 3 that had been moved and didn't work any more. We also so a fox, 2 wood peckers and a TON of sea lions.



Sunday Jen ran the Witch City 5K (finisher 226) while Aaron, Tessa and I went to church. Then Jen and I went to the Stone Zoo, a long with 5,000 trick or treaters, it wasn't quite the quiet Sunday activity I had imagined. Aaron cooked us some Chicken Masala for dinner.

Monday Jen, Tessa and I once again headed south of Boston. Jen humored me as we went to the Adams National Historic Site. In case you didn't know, I LOVE John Adams. He's right up there with Bon Jovi if you ask me. The site was great. We took a trolley ride and got 1.5 hours of guided tour for five dollars. And to top it off, the parking garage was free with our validated ticket. You really, really can't get better than that!

Home again for dinner at a local restaurant. Tuesday the tourists extraordinaire (Jen, Tessa and I) hit the Peabody-Essex Museum in the morning, the Boston Hot Dog Company for lunch, and Salem Cycle and Salem Beer Works for souviners. Then off to the airport and woosh then Home.

Tessa is bored today..."Aren't we going to go anywhere?" But then again she is also taking a very long nap so perhaps she's just recuperating.

So...who's coming to visit next?