The next visitor to stop by was a good friend from high school (pause for dramatic effect)

Christin! (Applause....)

The really great thing about having friends from the distant past (10+ years...geez!) is that you can just jump right into activities and conversations without that whole "So where did you grow up?" and "What did you major in at college" conversation. I was immediately able to ask her about...well...stuff...you know - gossipy girl stuff.

We had a lot of fun. This was her first visit to New England so I got to go back to the old-school tourist stops.

We had some fun times in Concord, MA.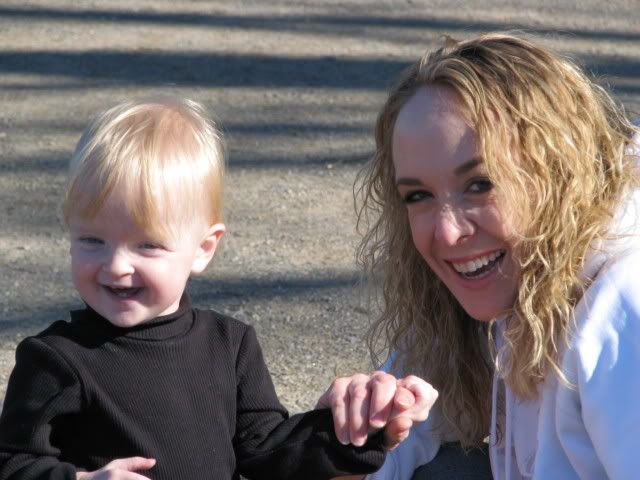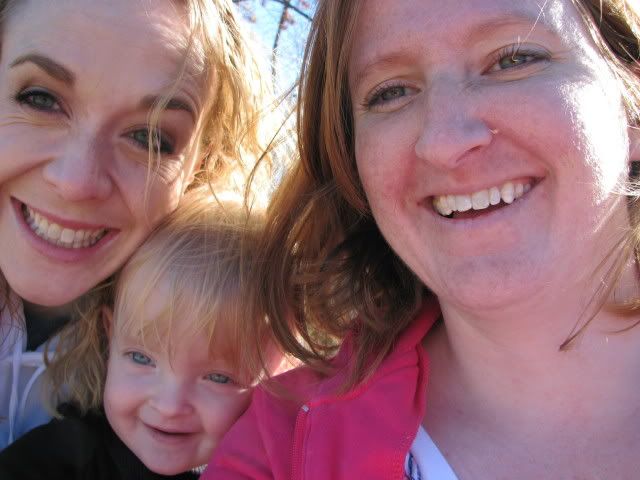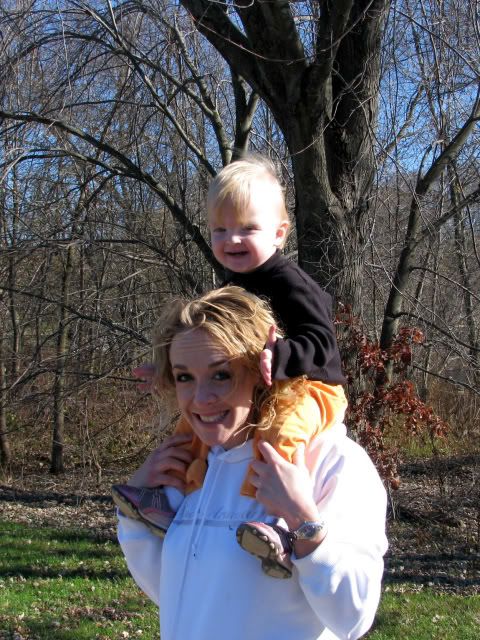 Christin was such a fun playmate for Tessa! She was like a completely overqualified yet still amazing nanny! The three girls had a good time.
And the next day we traipsed around Boston.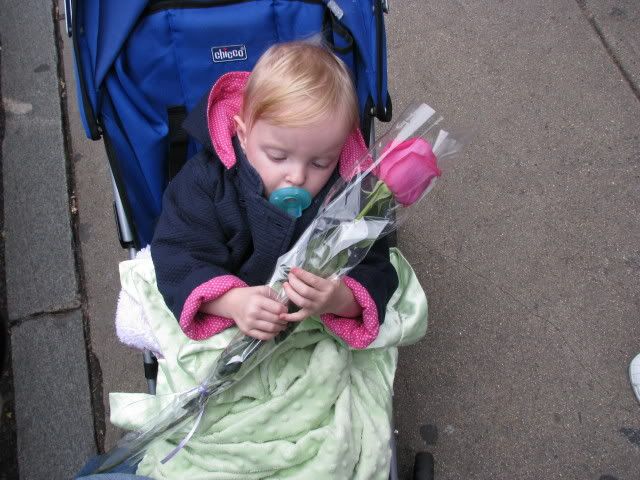 Daddy bought this rose for Tessa...he haggled the seller down by 50% and the seller sealed the deal by "recognizing she was a girl..." as in "for this beautiful girl, half price..."
This is when Christin and I were papparazzied by Aaron - I feel violated.
You'll be surprised to find out that we went to Marblehead on Sunday (perhaps old age is making us predictable?)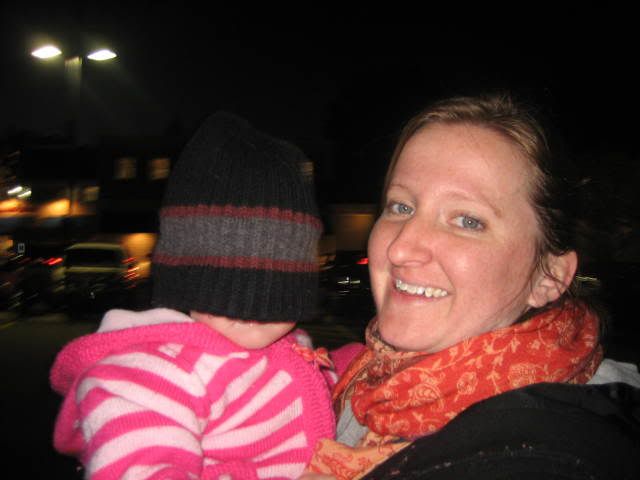 Tessa has become incredibly fond of doing her own walking, particularly if she is holding the hands of people prone to swinging her on the count of three. While we were walking around Marblehead she was just tromping along and would not let me pick her up. When we got back to the car we discovered that she had been walking for who knows how long with her hat like this...can anyone see a trust metaphor in the making?
The big deal of the trip was
HaLloWeEn
(same day we went to Concord)...and we had so much fun.
Christin
made
a rocking Goldilocks costume...Aaron teased me for checking the stitching on the sleeves but they seriously looked 100% store bought!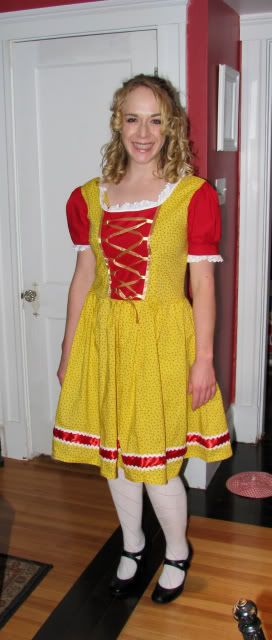 Our pieced together bear costumes were a bit shabby in comparison but still super fun.
I know this post is about Chrisin's visit but I have to do a Tessa side note:
While we were getting dressed Tessa was cruising around the house laughing and chattering. She obviously had no idea what was going on but still got all caught up in the excitement. We trick or treated down the fancy street a few blocks from our house. Tessa and her entourage.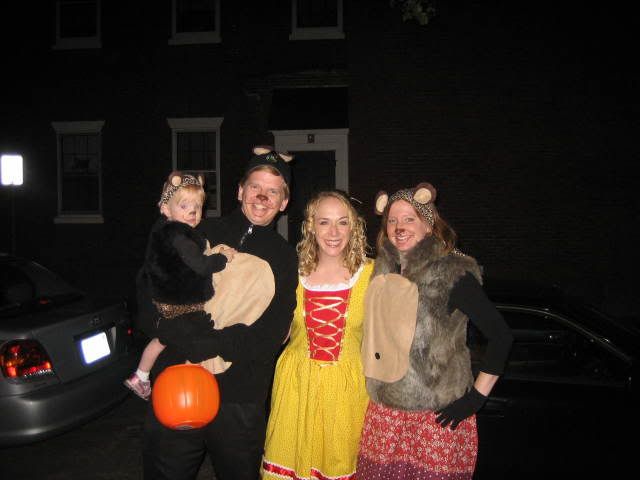 I am not kidding - this was one of the funnest nights I've had in a long time. Tessa got a LOT of candy for someone who weighs 22 lbs...but since we all helped we didn't feel guilty eating as much as we wanted.
Christin and I headed back out to walk around Salem (sans wallets unfortunately...with no abandoned cottages with porridge to be found). While Daddy was putting Tessa to bed she remembered the candy and be-bopped out to have a snack.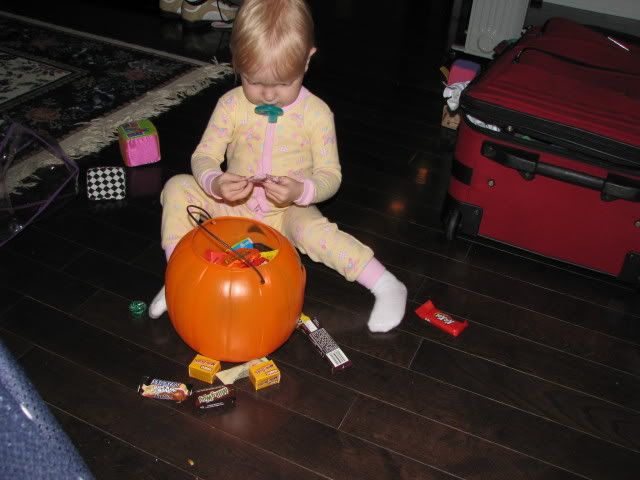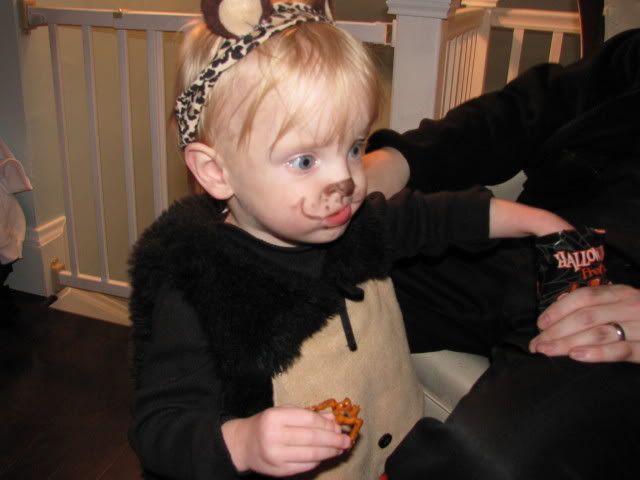 This is a picture of Mommy letting Tessa break the pretty strict family rule that "pretzels are NOT a snack!" Poor kid, I'm pretty sure all the adults were sneaking Snickers behind her back...wait, was it only me?
Hum...what other highlights of the trip might be of interest...
Oh yes - Christin got roped into making us dinner. I had meant for it to be a "cooking together" experience but she did all of it. However, it did fulfill one of my fantasies about participating in one of Christin's fabled dinner parties. Too bad I didn't get any pictures of the 3 game hen roasting, bum up, in our oven. It was delish!