If you followed the first three months of Tessa's life on our care page (http://www.carepages.com/ page name: ourtessa) then you read more details. This is my effort to summarize, briefly.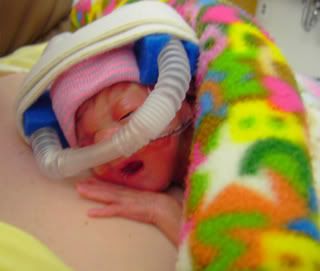 ...and the day we got to hold her.

Day 8 of Life - still at 2 lbs. 3 oz.

Happy One Month to my Sweet Girl

5 weeks (31weeks gestation) and looking around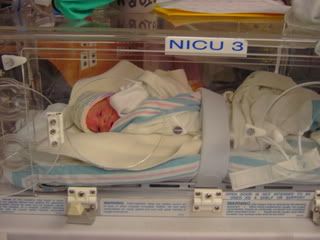 The big move from NEMC to the local hospital. Tessa was just barely 3 lbs when she made her first car ride.

Settling in at the new hospital.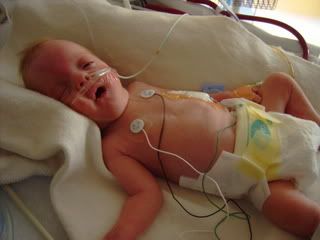 Unfortunately it didn't stick. After a week and a half Tessa had to go back to NEMC for an unexpected PDA Ligation. This is her just after surgery, she was still out from the anesthesia. I hate to state the obvious but this was the worst day of Mommy and Daddy's lives.

BUT - It was all for the best. 24 hours after the surgery Tessa was breathing on her own, without the nasal cannula!! We had thought she was looking so good before the surgery, but now her cheeks were rosy and it even seemed like they were chubbier. (This is a picture of a happy baby on morphine.)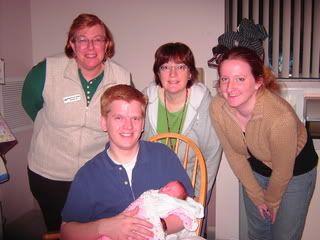 This is the day we said goodbye (for the second time) to Tessa's primary nurses Meredith and Julie. They took very good care of Tessa, and of her parents.

At two months old Tessa had her first bottle.

Right about now we thought we might never get home. Tessa was breathing perfectly on her own, she just wouldn't eat enough...
...but finally on her three month birthday, her 90th day of Life, and Mother's Day.